William Matheus Sullivan
The William Matheus Sullivan Musical Foundation was established through the estate of a New York lawyer and music patron, with the first grants awarded in 1957. The Foundation identifies talented young opera singers and helps them develop professional careers through a unique program combining audition awards with continuing support for learning new roles. Its first director was Edward Johnson, general manager of the Metropolitan Opera, and the board has always been made up of distinguished professionals in the field.
The Foundation holds annual auditions in New York, and gives generous cash awards to gifted young opera singers in the early stages of professional careers. In 2022 seven winners received $10,000 Sullivan Awards, and six singers received $2,500 Career Development Grants. When the 2020 auditions were cancelled due to the pandemic, the Foundation gave $170,000 in special grants to recent Sullivan winners.
Sullivan Award winners are eligible to apply for additional grants for five years to learn new roles. The number of awards and grants varies with the resources of the Foundation.
Over 1,000 singers have earned Sullivan support, among them Jessye Norman, Shirley Verrett, Jerry Hadley, Kathleen Battle, Michael Devlin, César Ulloa, Renee Fleming, Leona Mitchell, Susan Graham, Patricia Racette, Elizabeth Futral, Denyce Graves, Lisette Oropesa, Anthony Roth Constanzo, and J'Nai Bridges; and current Sullivan trustees Christine Brewer, Vinson Cole, and Susanne Mentzer.
Board of Trustees
Evans Mirageas, President
Christine Brewer, Vice-President
Marietta Simpson, Vice-President
Andrew Jorgensen, Treasurer
Erie Mills, Secretary
Spencer Burke
Vinson Cole
Bruce Donnell
Anthony Fogg
Charles MacKay
Dr. Everett McCorvey
Susanne Mentzer
Craig Rutenberg
George Shirley


Trustees Emeriti
Richard Gaddes
Peter J. Merrill
Maggie Stearns


In Memoriam
Betty Allen
Rose Bampton
Barbara Bliss
George Boveroux
Spencer Byard
Edward Downes
Frank Forest
Peter S. Heller
Edward Johnson
David Lloyd
John Moriarty
Gail Robinson
Andrew Y. Rogers
Hugh Ross
Theodor Uppman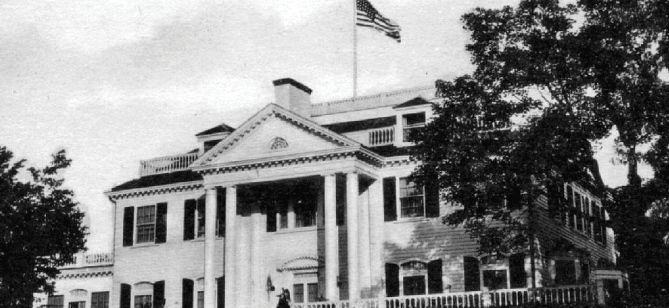 Mr. Sullivan's Dunrovin mansion as it appeared in the 1930s.
A Note from the Ridgefield Historical Society
Ridgefield, CT was once the home of a music festival that brought leading opera and chamber music personalities to a private theater on an estate called Dunrovin. William Matheus Sullivan, a New York City lawyer and patron of music, bought it as his country home in 1936 and converted a carriage house into a theater known as the Playhouse at Dunrovin.
In 1938 he began featuring singers like Lily Pons, Grace Moore, Lawrence Tibbett, Edward Johnson, and Geraldine Farrar in private concerts. The festivals on successive Saturday afternoons in the summer were aimed at introducing young operatic talent and raising money for music scholarships.
When war broke out in Europe in 1940, Mr. Sullivan turned over the concert proceeds to the Red Cross. Suspended during the war, the festivals resumed in 1946, but ended with his death in 1947.
A native of Brooklyn, N.Y., Mr. Sullivan was an attorney for the Metropolitan Opera and for many of its singers, and sponsored young artists who went on to become leading singers and musicians. An art and antiques collector, he hung Van Dyck's "The Holy Family" in his playhouse.
He was often seen in the village with his English sheepdogs, one of which was said to be the gift of his friend, the Duke of Windsor. In his will, Mr. Sullivan established the William Matheus Sullivan Musical Foundation, Inc.